The most cost-effective measurement tool for single HD/FM station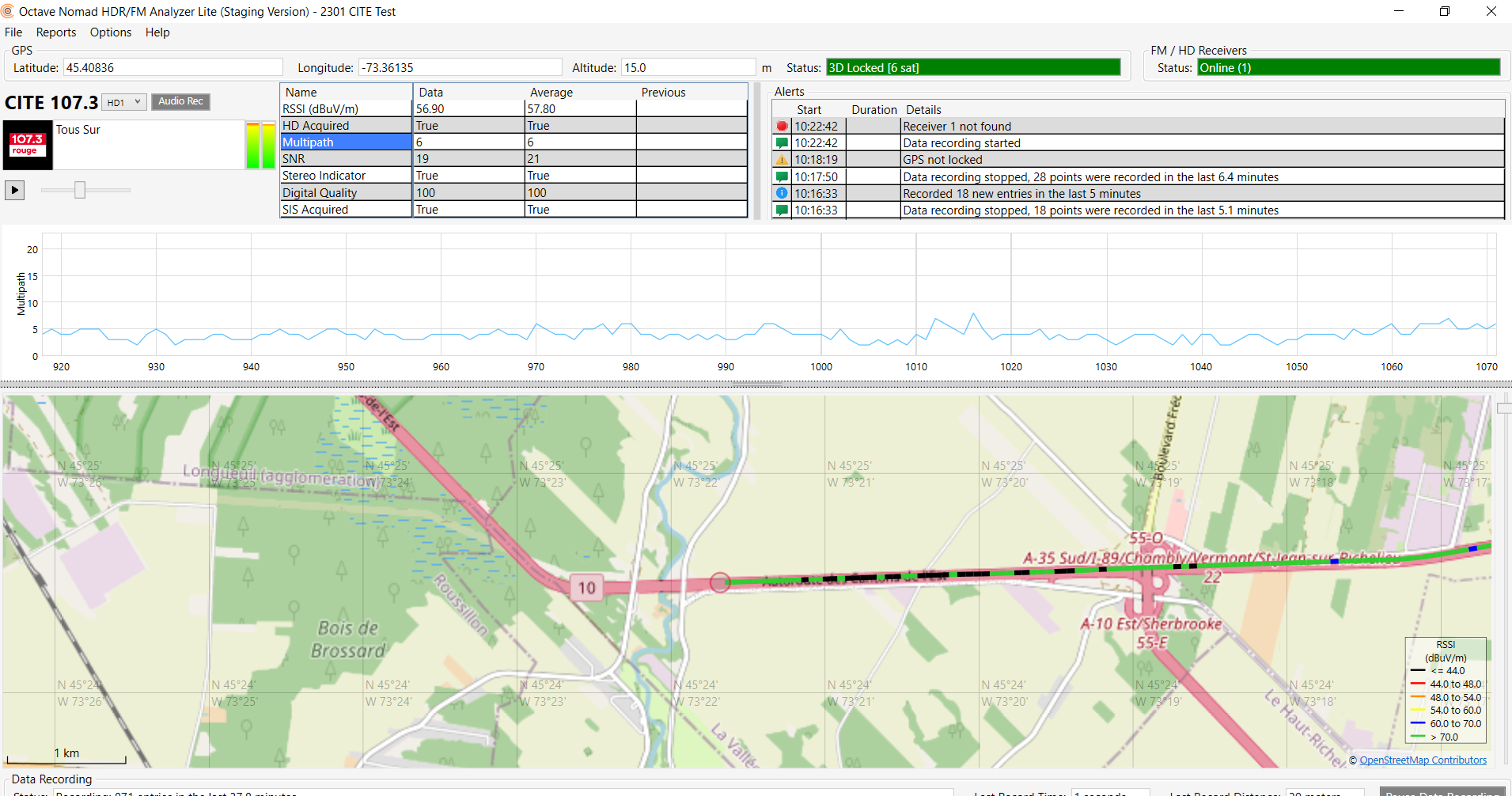 Featuring recording with real-time service quality metrics for 1 single station, designed for smart HD Radio™ / Analog FM mobile measurement.
Documentation and Specifications

Supported HD/FM Radio receivers:
Video: how to use the Main User Interface **to come**
Additional Information

The Nomad HDR/FM Lite Analyzer exctracts the RF level from the Inovonics recevier's RSSI information, via a calibrated algorythm to consider the receiving antenna gain and system losses. It utilizes highly accurate GPS monitoring using WAAS/EGNOS satellites and supports logging of 1 station (HD Radio or analog). The system can compare in realtime a previous campaign completed for the station under test or for another station in the same market, to evaluate the differences in coverage and service quality between the 2 stations. Reporting is available via Excel-friendly CSV, Google Earth KML formats or OpenStreetMap PDF outputs.
Record 1 station at the time
Real time audible alarm feedback, reporting on: system status, propagation detected issues, other configuration alarms
Real time audio recording (HD and analog) and geotag playback
Time-based or distance-based data acquisition
High accuracy GPS positioning
Full campaign offline player
Support model KML overlay on OSM maps
Audio playback/record control (HDR only / split / blend / analog)
HD Radio™ metrics recording including1 :

HD Signal Acquired
HD Digital Audio Acquired
HD Available Programs
SIS Acquired
Program QI
Program DAAI
CD/NO
HD Artist
HD Title
Current Image Status
Current Image Name
Logo Image Interval
Album Image Name
Album Image Interval
Realtime audio recording (right channel analog and left channel digital) and geotagging for later analysis or playback

FM/RBDS metrics recording including1:

Multipath
SNR
RDS Loss
RDS PI
Stereo Indicator
RSSI
Left channel level
Right channel level
RDS PS
RDS RT
RDS Block Error Rate
Realtime audio recording and geotagging for later analysis or playback

Direct post-processing output:

One-click campaign summary report in OpenXML(docs), HTML5 or RTF format
Each individual metrics is recorded as CSV File
Google Earth KML report generation available for most metrics
Also support generating map reports to PNG via Open Street Map

Supports 3 languages: English, French and Spanish
1 Metrics varies depending on the optional receiver used
Legal Notices

Nomad HDR/FM Analyzer™ is a proprietary trademark of Octave Communications
HD Radio™ is a proprietary trademark of Xperi Corp
Excel is a trademark of Microsoft
Google Earth is a trademark of Google
INOmini HD Radio Site Streamer models 635, 638 and SOFIA HD Radio Site Streamer Model 565 and 568 are trademarks of Inovonics
USA Patent Pending: PTAS #505155860
Patent process subsidized by the Ministry of Économie et Innovation du Québec (Canada)