Designed for smart HD Radio™ / Analog FM mobile measurement, the HDR/FM Nomad Analyzer™ includes the following unique features:
Record simultaneously up to 5 channels
Real time propagation analysis with prediction models (based on FCC, ISED and Mexico broadcasting databases)
Time-based or distance-based data acquisition
High accuracy GPS positioning
HD Radio™ metrics recording including1 :

HD Signal Acquired
HD Digital Audio Acquired
QI (Digital Audio Quality Indicator)
DAAI (Digital Audio Availability Indicator)
Blend Control Status
CD/NO
Realtime audio recording (right channel analog and left channel digital) and geotagging for later analysis

FM/RBDS metrics recording including1:

Analog RF Level
Multipath
RDS Loss
RDS PI
SNR
Stereo Indicator
Realtime audio recording and geotagging for later analysis

Spectrum Analyzer metrics:

Main channel power
HD Radio™ side band power (MP1, MP2, MP3 or MP11 modes)
1st adjacent channel power
2nd adjacent channel power

Direct post-processing output:

Each individual metrics is recorded as CSV File
Google Earth KML report generation available for most metrics
Detailed analysis such as analog to HD sideband carrier ratios and model comparison
Unique antenna pattern validation analysis
Supported HD Radio receivers:
The HDR/FM Nomad Analyzer measures the RF level of HD Radio sideband ratios to analog and interferer carriers along with analog FM RF level recording of each station along the entire FM band. It utilizes highly accurate GPS monitoring using WAAS/EGNOS satellites and supports logging of up to 5 simultaneous channels (HD Radio or analog). Real-time propagation analysis reports on unexpected RF drops, presence of interferers, HD Radio sideband power ratio mismatches and other features. Reporting is available via Excel-friendly CSV and/or Google Earth KML formats.
The unique real-time propagation analysis is possible by pre-computing the "spectrum picture" of the surrounding measurement campaign area by uploading the propagation files from the Octave Propagation Model Cloud Service, which connects and analyzes the data from the FCC, ISED (Canada) or Mexico broadcasting database. This allows a single user to drive into his/her measurement campaign while receiving audible notification when the system detects reception problems, potential interference issues, etc. This enables the user to quickly decide to make more measurements in critical areas during the drive tests to gather to most relevant information.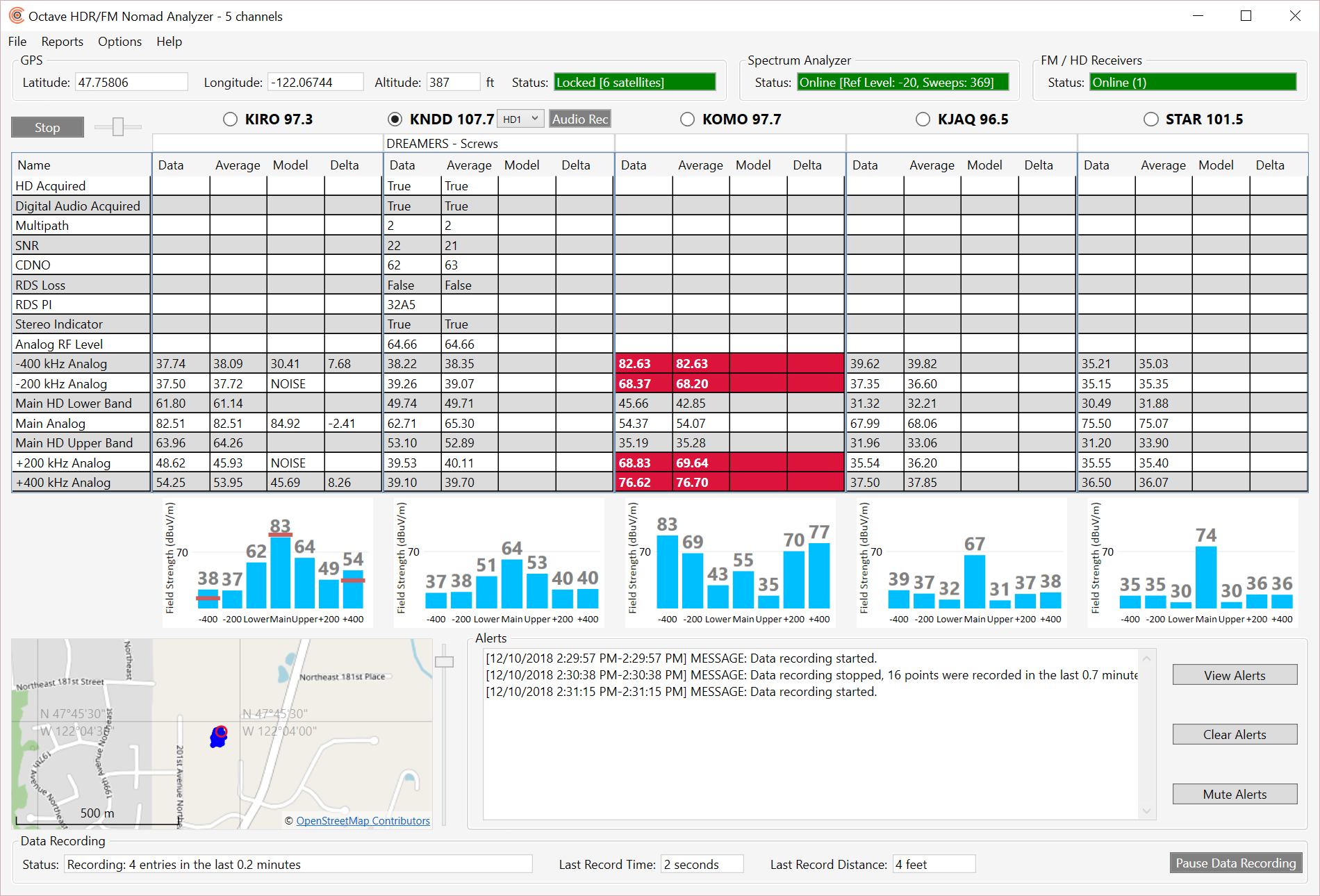 HD Radio™ is a proprietary trademark of Xperi Corp.
HD Radio Data Monitor is a proprietary trademark of DaySequerraCorp.
Excel is a trademark of Microsoft.
Google Earth is a trademark of Google.
1 Metrics varies depending on the optional receiver used
To download the System Specifications